Getting here
Auguststraße 68
10117 Berlin
info@samuraimuseum.de
+49 30 62975635
U-Bahn
U6 Oranienburger Tor, U8 Rosenthaler Platz

S-Bahn
S1, S2, S25, S26 Oranienburger Straße

Tram
M1, M5 Oranienburger Straße, M8 Rosenthaler Platz

Bus
142 Tucholskystraße, M41 Abgeordnetenhaus
Opening Hours
Monday – Sunday
11 am – 7 pm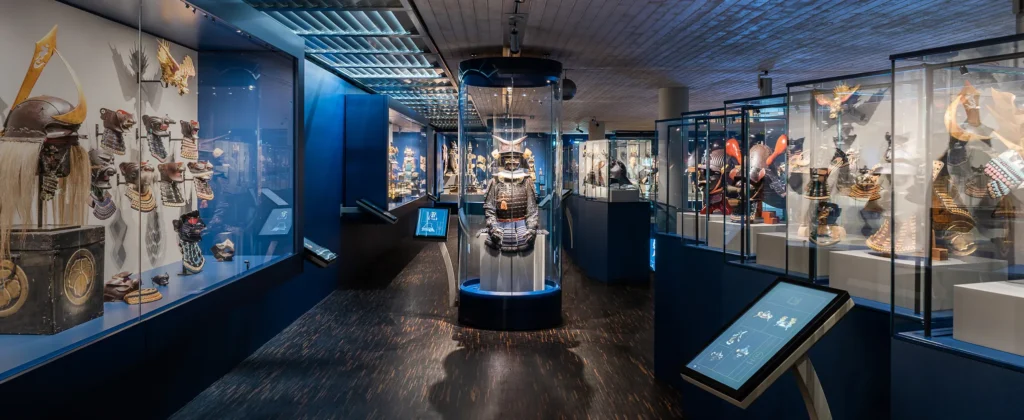 Admission and Tickets
TIME-SLOT TICKETS
We offer dynamic pricing to make your visit to the museum enjoyable. It pays to book early: the further away the date, the cheaper the ticket! Book your Time-Slot Ticket now online:
Time-Slot Tickets reduced: € 5  – 11,50
Time-Slot Tickets regular:  € 7  – 17
Please stick to your assigned time slot. Your admission time is indicated on your ticket. We recommend arriving 15 minutes before your time slot begins. Re-entry and entry after your time slot are not possible.
FLEX-TICKETS
Stay flexible! Book your Flex-Ticket and come whenever you like. Admission guaranteed, no queues.
Flex-Tickets reduced: € 19
Flex-Tickets regular: € 14
GROUP TICKETS
Would you like to visit the museum in a group? From 10 persons and optionally with or without a guided tour.
Group tickets (minimum 10 people)
SCHOOL  CLASS TICKETS
Here you can find tickets for school classes. Guided tours included!
School classes: € 5 per person
More tickets and information you find here
Guided tours
During the guided tour (in German) you will be introduced to more than a thousand years of samurai history exemplified by selected objects from the collection. The 60-minute tours take place at 1 pm and 5 pm. You can book your guided tour in addition to your ticket online or on-site. If you wish to book a tour in English, please contact us: info@samuraimuseum.de
Book your Guided Tour Ticket (german tour)
Shop
Our museum shop showcases a wide variety of products inspired by the museum's collection, as well as a curated selection of authentic Japanese articles. Exclusive collaborations and choice collector's items will delight enthusiasts and laypersons alike.
Shop
Barrier-Free Access
Except for one installation, the Samurai Museum is completely accessible to visitors with impaired mobility. The second floor can be reached with a lift. Please consult the personnel at the register about how to get there. Our staff is working on making the museum as accessible as possible to all our visitors.
Bags
It is only possible to bring bags and backpacks if their format is no bigger than A4. A limited number of lockers are available for larger items.
Photography
For private reason it is allowed to take pictures (without flash only) or make movies in the exhibition. For commercial or professional reasons you need the permission of the Samurai Museum Berlin. Please contact us.
Safety Guidelines
Please do not visit the museum if you are displaying symptoms or if you have been in contact with a COVID-19 patient in the last 14 days.
In accordance with current hygiene regulations, the wearing of an FFP2 or medical mask is not mandatory in the exhibition rooms. However, visitors over 6 years of age are recommended to wear an FFP2 or medical mask and to keep a minimum distance of 1.5 meters.
Bus trips
Are you planning a group trip or bus trip to visit the museum? We recommend our partner BUSREISEN.COM